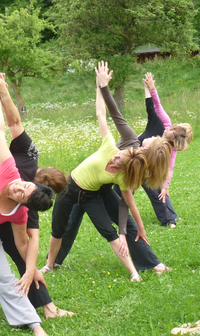 Bedrijfsyoga & workshops
Contact: info@yogatime.bl of 06 10328436
Yogales binnen het bedrijf
Bij yoga op het werk is vanwege het veelal zittende kantoorwerk extra aandacht voor het gebied van rug, nek en schouders, armen/polsen. Het is een prettige combinatie van ontspanning, lichte en krachtige, dynamische houdingen. Je hoeft voor yoga niet lenig te zijn, iedereen kan meedoen. 'Yoga op het werk' kan in lengte variëren van 15 minuten tot een uur, afhankelijk van de wensen. Het kan gaan om een wekelijks terugkerende les, of om een eenmalige workshop.
Een yogaworkshop geeft inzicht, energie, plezier en draagt bij aan een open sfeer
Een yogaworkshop kan goed ingezet worden tijdens een coachings- of trainingsprogramma, teamdag, maar ook als bedrijfsuitje. Een yogaworkshop kan in tijd variëren van 20 minuten tot een hele dag.
Ik heb 15 jaar ervaring met bedrijfsyoga en yogaworkshops op maat
Ik geef op een toegankelijke manier workshops voor beginners tot ervaren yoga-beoefenaars. De kosten zijn afhankelijk van de locatie, tijdsduur en groepsgrootte. Mail voor meer informatie.
Enkele voorbeelden:
Eenvoudige basis yoga- en meditatieworkshop.

Yogaworkshop op maat, passend bij thema/ onderwerp van trainingsprogramma.

Powernap of 'yoga van de slaap' (ontspanningsmeditatie).

Ontstress: introductie over stress, een eenvoudige yogales en lange ontspanningsmeditatie.

Workshop 'beter slapen'.